Stormcaller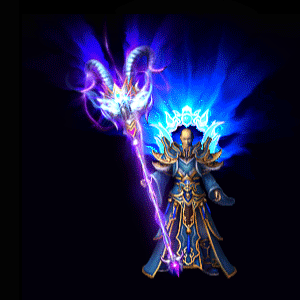 Wielding a trident or a gnarled staff, the Stormcaller may be a formidable enemy or an influential ally. The ability to tame wild animals sets this sorcerer apart and likens him to a Druid in many ways.
Separated at birth, sorcerers are defined by the blood running through their veins.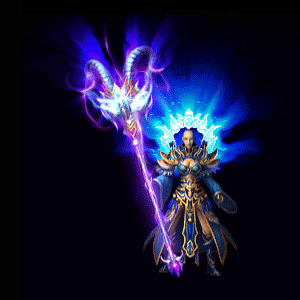 Stormcallers and Pyromancers do not train together lest the purity of their power be weakened. The Stormcaller's ability to control ice and electricity give him an exceptional edge in combat.
It is said that the eyes of the sorcerer are scorched and see only the path of destruction that lies ahead, their ability to feel the static in the air admits them supernatural foresight.

Elements: Primary(Lightning), Secondary(Ice), Tertiary(none)
Stormcaller Skills and Spells
IceBlast
Hurl a sphere of ice to freeze opponents and cause cold damage
Train Level: 5
Disperse
Cast a ring of accelerated air around your body to push away opponents
Train Level: 8
ThunderStrike
Summon a powerful bolt of lightning from the sky
Train Level: 13
ElectricShock
Create an electric charge to stun and possibly confuse animals into becoming your ally
Train Level: 16
XueLong
A spear of charged ice surges through multiple opponents
Train Level: 19
ThunderNova
Create a surrounding blast of electricity attacking multiple enemies
Train Level: 23
StaticBlast
Hurl a ball of static lightning towards a single opponent
Train Level: 24
IceBarrage
Create a blizzard of ice devastating opponents and pushing them away
Train Level: 26
FrozenGround
Summon a flurry of snowflakes freezing the ground below
Train Level: 28
FrozenShield
Summon a protective shield to absorb damage
Train Level: 33
Blizzard
Summon a shower of charged ice to come crashing down on opponents below
Train Level: 38
Focus
Focus your powers and increase damage power at the cost of double mana consumption
Train Level: 40
Teleport
Teleport to a selected location on screen
Train Level: 42
ArcticStrike
Summon a blast of arctic ice from the sky attacking multiple opponents
Train Level: 45
Nurture
Consume 30% of your mana points to heal pets
Train Level: 48
PolarFlow
Your hits have a chance to cause a chilling effect to monsters, dealing damage over time
Train Level: 56
VolticGlow
Surround yourself in an aura providing Shocks to surrounding allies
Train Level: 64
ThunderOrb
Charge a powerful orb of lightning to explode on multiple opponents
Train Level: 68
FrostNova
Create an explosion of ice attacking multiple surrounding enemies
Train Level: 75
LightningStorm
Summon a storm of lightning that delivers bolts to multiple opponents
Train Level: 78
ElectricCharge
Generate a charge of electricity that travels through multiple opponents
Train Level: 85