Hunter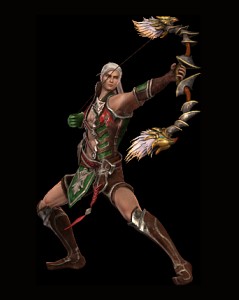 A powerful warrior belonging to nomadic bands that roam the plains near the Snowy Mountains.
The wandering of these groups often brings them into conflict with other peoples, so the Ranger is accustomed to fighting to defend their own. This lifestyle has made him fiercely independent and able to weather severe hardship and travel.
The Ranger's skill with the Bow rivals that of the Elves, but he resist to fight hand to hand, rather preferring to set traps and lay in waiting.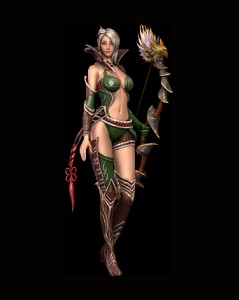 Once trained, Hunting Dogs make the Ranger a particularly elusive subject.
The Ranger is much sought after as a mercenary, and compliments all kinds of hunting parties due to his use of multi-elemental arrows and skills.

Elements: Proficient in all
Hunter Skills and Spells
AimedShot
Shoots an arrow at a target
Train Level: 6
ChargedTrap
Lays a lightning trap that will trigger on close enemy proximity
Train Level: 10
Disengage
Cast a ring of energy around your body to push away opponents
Train Level: 12
ToxicVine
Entice a Spitting Vine out of the ground to fight for you
Train Level: 16
FireOrbs
Summon orbs of fire to create additional explosive damage to arrows
Train Level: 18
SpikeTrap
Lays a spike trap that will trigger on close enemy proximity
Train Level: 22
SpreadShot
Shoot multiple arrows at multiple targets
Train Level: 24
LightningOrbs
Summon orbs of lightning to create additional explosive damage to arrows
Train Level: 25
FreezingTrap
Lays an ice trap that will trigger on close enemy proximity
Train Level: 26
HuntingWolves
Summon wolves to fight by your side and hunt with you
Train Level: 28
IceOrbs
Summon orbs of ice to create additional explosive damage to arrows
Train Level: 30
Isolate
Isolate a target making it unable to move, reducing agility and defences
Train Level: 36
HeadShot
Aim an arrow at an opponent's head for a deadly attack with lower accuracy at long range
Train Level: 40
ExplosiveTrap
Lays a fire trap that will trigger on close enemy proximity
Train Level: 42
TrapShot
Shoots an arrow trap
Train Level: 45
ZenBlink
Teleport through the sky to a location nearby, causing damage on impact
Train Level: 52
FuryWolves
Hunting Wolves become Fury Wolves with all round improvements
Train Level: 56
DaTusha
Surround yourself in an aura providing Critical Strike to surrounding allies
Train Level: 64
VineEnhance
Enhance your toxic vine with more powerful attacks
Train Level: 68
KneeShot
Shoot an arrow into the legs of an opponent to slow him down
Train Level: 72
AngelicRenewal
Greatly increase damage to undead but become weak to incoming attacks
Train Level: 78
DemonicRenewal
Greatly increase damage to non-undead but become weak to incoming attacks
Train Level: 85