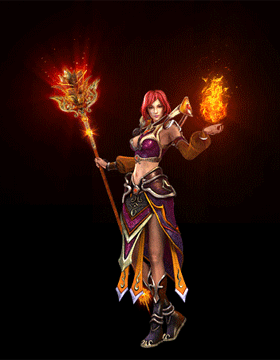 The first Archon was Nebulos Smoke, who rose to power after freeing Bichon from the tyrannical rule of the Woomyon Empire. Nebulos was also the first recorded fire summoner, which gave rise to a bloodline of anarchists, who would go on to change and shape the world many times over.
The Eight Archons are a fellowship of skilled warriors and sorcerers, each trained in his own deadly skill form from birth.

The Eight Archons
In Rise of the Archons you can choose from 8 character classes.
⚔ Barbarian
⚚ Pyromancer
☯ Mystic
⚒ Assassin
➶ Hunter
⚡ Stormcaller
☠ Necromancer
☤ Monk

Two main power sources
There are two main power sources from which characters draw their energy: Primal and Arcane. This energy can be channelled further through elemental sources such as: Fire, Ice, Lightning, Holy, Dark, and Poison.

Primal Power: – Barbarian – Assassin – Hunter – Necromancer
Arcane Power: – Pyromancer – Stormcaller – Mystic – Monk